My entire life I've only ever heard buffalo mentioned in 3 contexts.
Native Americans ate buffalo for food. But the white man killed the animals for sport, thus depleting the food supply for the Indians.

When crowds go insane and rush into a stadium or a Walmart, they are referred to as a "herd of stampeding buffaloes".

There is an imaginary "purple buffalo" which is an integral part of the storyline for The Neverending Story. Great family entertainment. I prefer the movies, but there is also an animated TV series.
But thanks to angie10

,

fellow blogger from Botswana, a 4th context has been added to my knowledge base. Learned some interesting facts about the African buffalo. Didn't even know they had buffaloes in Africa.
Drawing of an african buffalo. Description in the original works (translated): "Kap- or Kaffernbüffel" (Bubalus Caffer). Body length 2,80 m, tail length 0,90 m, height 1,50 - 1,80 m (Photo credit: Wikipedia)
FYI. "They are well known for their high level of intelligence and intuition Apparently when a person tries to play dead, the buffalo will urinate into the canal of their ear because it causes intense itching, forcing them to snap out of it and give themselves up!"
Uh huh. Well! Now that I know this, I know to continue to play dead no matter how badly it itches! :)
Buffalo with lettering on a white background isolated
© Photographer: Havroshechka | Agency: Dreamstime.com
Learn more about the wildlife of Botswana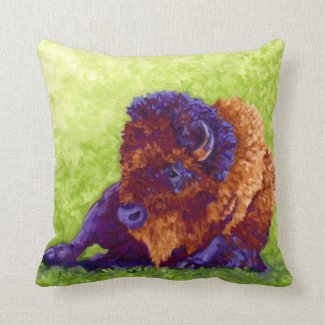 Purple Buffalo Pillow by WildFacesGallery
Shop for another throw pillow.
Purple Buffalo by Foux on DeviantArt