Paper.li is a tool that helps you publish your own online newspaper. How cool is that? You can create and publish your very own "Daily Planet" with news items of interest to you that might be of interest to other readers also.
So far I've generated four different papers - covering topics like freelance writing, Pinterest, home business or work at home articles, tips, etc.
Using the Paper.li publishing tool, each week (set to the date to every Sunday), a newspaper is published which summarizes my Twitter activity - not all, just some highlights.
This week's publication for Sunday, April 26, these are the headlines:
10 Businesses You Can Run from Anywhere on Earth (And Start Today)

Confessions of a Cookbook Collector

Naples: The Birthplace of the Modern Pizza

Citrine Earrings

The Best Thai in Middle Tennessee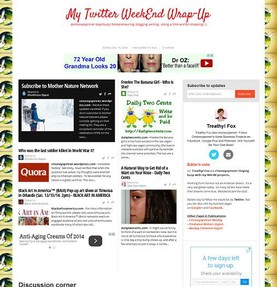 You an also look at some of the previously published editions by clicking on the Archives. They aren't all Sunday editions. Tried different days and then finally settled on Sunday mornings. You can subscribe to receive weekly updates via eMail, if you like.
FOLLOW ON TWITTER: By the way, if you have a Twitter account and want me to follow your tweets, feel free to leave your handle or Twitter name in the comments.
Related articles